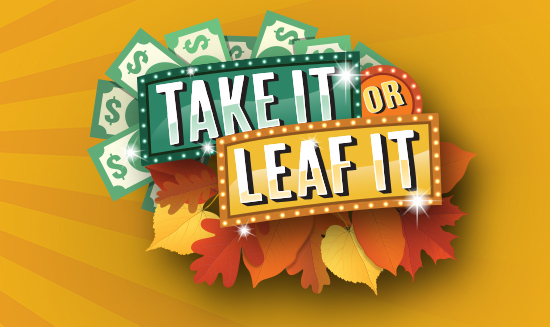 Win your share of the $110,000 pile!
Be 1 of 32 guests to win up to $2,000 cash or the grand prize winner of a Jeep Wrangler! Every Tuesday in November at Casino Arizona from 5 pm to 9 pm, 8 winners will be selected to play our Take it or Leaf it game board for cash prizes. Then, on November 27, 1 lucky winner will drive off in a new 2018 Jeep Wrangler.
How to Earn Entries
Earn 1 free entry. Earn additional entries for every 50 points earned at Casino Arizona and Talking Stick Resort between November 1 – November 27. Table games players earn 1 entry based on their earning method, equivalent to 50 points.
Automatically earn 5X entries every Thursday beginning at 4 am.
Earn additional bonus entries based on tier by visiting a kiosk at Casino Arizona on Saturdays during the earning period from 10 am – 10 pm.
Drawings
Take it or Leaf it game board drawings will take place every Tuesday in November at Casino Arizona from 5 pm to 9 pm
The winner will select a prize on row 1 (top row) and choose to keep that prize (take it) or choose a prize from row 2. If the winner chooses to pick a prize on row 2, the prize drawn on row 1 will be forfeited and they will receive the prize from row 2. Winners may continue to choose a new prize from a new row though the final row 5, in consecutive order, or stop. If a guest chooses to stop, the prize on the row that they stop on will be awarded to them. If they choose to play through to row 5, they must take the prize reveled on row 5.
The vehicle grand prize will be awarded on Tuesday, November 27 at 9 pm.
Visit the Player Rewards Club for further details.