we're your next big win.
Our Winner's Circle features winners of huge casino payouts and jackpots. From slots to video poker to keno and blackjack, the payouts continue to get bigger and bigger! We've had multiple winners of over $1 million, including a lifechanging payout of $5.7 million.
STAY CONNECTED 
Follow us on Facebook and Instagram for updates on winners, promotions, food and drink specials and so much more.
Join Now. Win Now. The Player Rewards Club is the official rewards program of Casino Arizona and Talking Stick Resort. Members can earn and redeem gaming and amenity points at both locations. Membership is free and offers benefits like cash back, exclusive dining offers and bonus entries to win big when you play, stay and dine using your loyalty card. By using your card to earn points, we are able to provide access to the rewards and benefits most suitable for your play. Not a member of the Player Rewards Club yet? Join Now. Win Now. Every new member will receive a scratch ticket awarding a slot play prize and the chance to win up to $10,000 in slot play.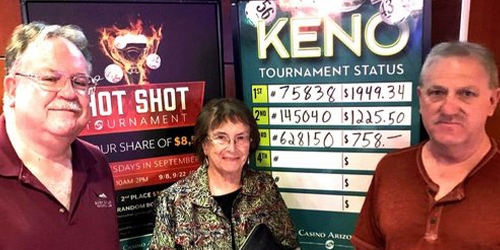 Keno Winners
Our Keno Hot Shots Tourney Winners!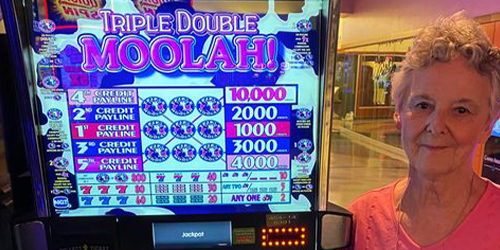 Dorothy
Congratulations to Dorothy who hit the Triple Double Moolah Jackpot of $20,120 on a $2 bet!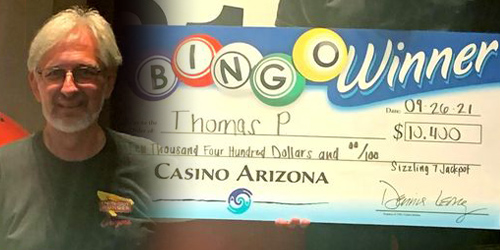 Thomas
Sizzling 7s Jackpot Winner, Thomas, with a whopping $10,400!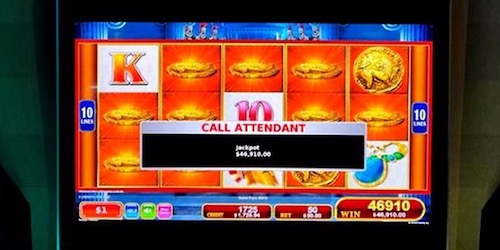 Delores
A whopping jackpot of $46,910 was hit by our very lucky guest, Delores!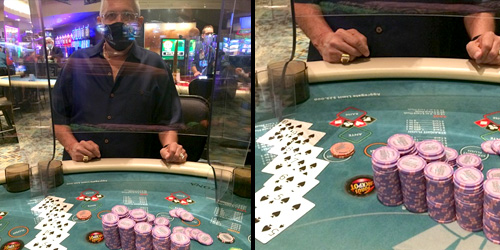 $104,808 Straight Flush Jackpot Winner
Joseph hit the 6-Card Straight Flush Jackpot for a cool $104,808!!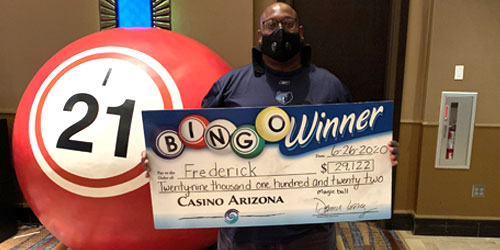 $29,122 Bingo Jackpot Winner
Frederick hit the Magic Ball Jackpot for $29,122 in June. Congratulations, Frederick!  
$12,958 Bingo Jackpot Winner
Robert won $12,958 when he hit the Bingo Magic Ball Jackpot in the Casino Arizona Bingo Hall.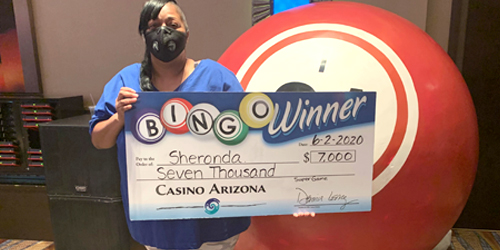 $7,000 Super Game Jackpot Winner
Sheronda won $7,000 when she hit the Super Game Jackpot playing Bingo at Casino Arizona.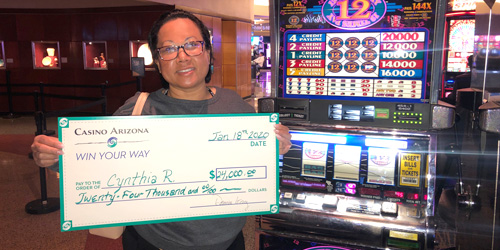 $24,000 Slot Jackpot Winner
Cynthia R. won $24,000 when she hit a slot jackpot at Casino Arizona.  
$8,900 Frame Game Jackpot Winner
Catherine hit the Frame Game jackpot for $8,900 while playing evening Bingo in December 2019. Congratulations, Catherine!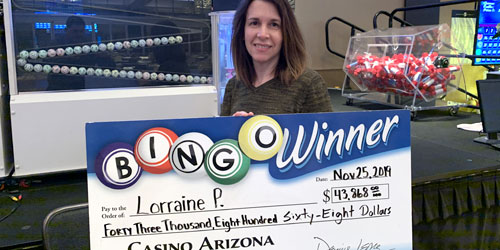 $43,868 Bingo Jackpot Winner
Lorraine hit the Bingo Magic Ball Jackpot in November 2019. The jackpot at that time hit for $43,868. Congrats, Lorraine!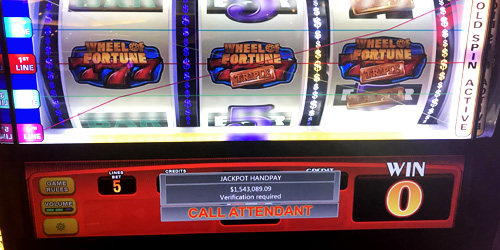 $1,543,089 Wheel of Fortune Jackpot
The Wheel of Fortune Max-Bet Jackpot hit in September 2019, and it paid $1,543,089. The Jackpot Winner wished to remain anonymous.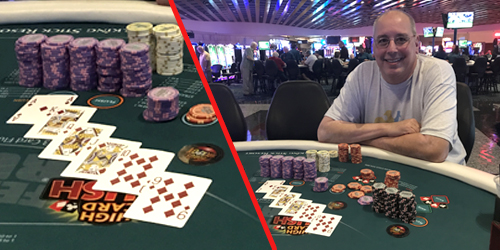 $73,874 High Card Flush Jackpot Winner
Robert won 10% of the High Card Flush Jackpot with a six-card straight flush hand of A-K-Q-J-T-9 of diamonds!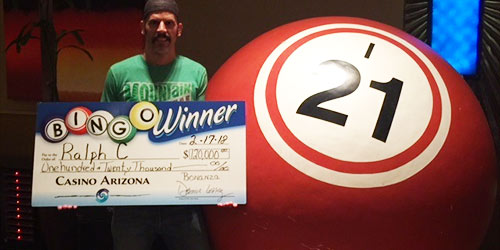 $120,000 Bingo Bonanza Winner
Ralph won the giant $120,000 Bingo Bonanza jackpot!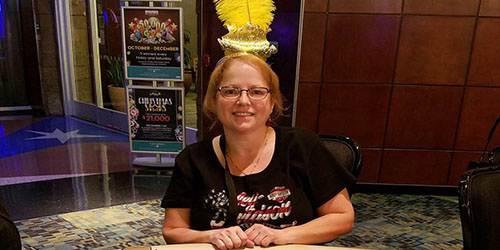 $1,000 Blackjack Winner
Judy started her 2018 winning $1,000!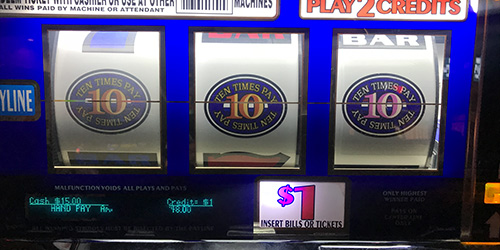 $164,648 Winner
Wendal was a lucky slot winner with $164,648!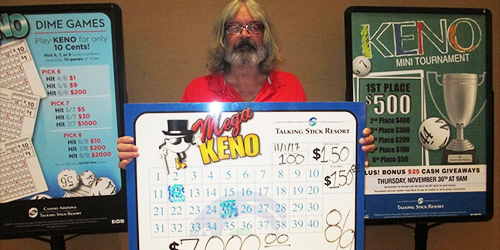 $7,000 Keno Winner
Ronald won $7,000 from Progressive Mega Keno!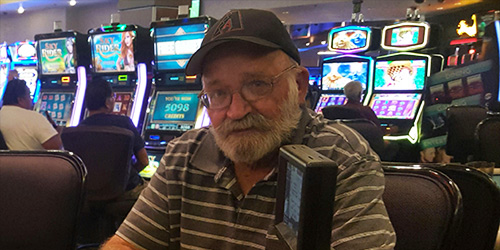 $5,000 Winner
Richard scored $5,000 playing blackjack!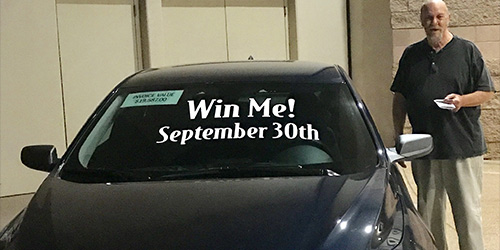 Chevy Malibu Winner
Gary won a brand new Chevy Malibu from Daub & Drive!
$10,000 Winner
Greg is a $10,000 slot winner!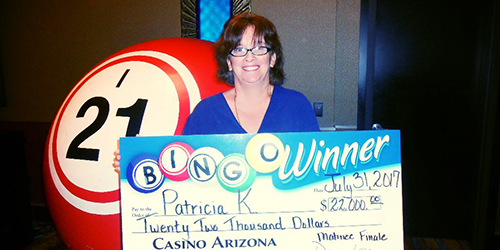 $22,000 Winner
Patricia played Bingo and scored $22,000!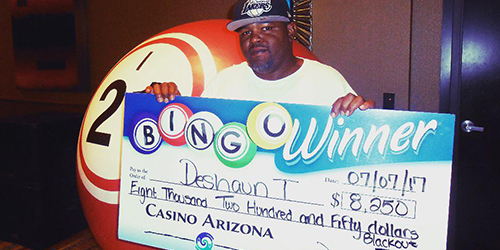 $8,250 Winner
Deshaun won $8,250 playing Bingo!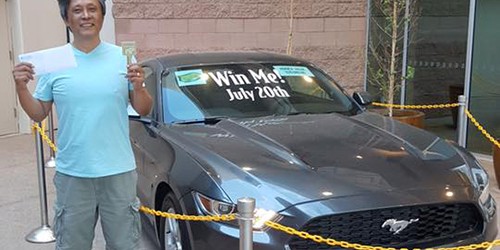 Ford Mustang Winner
Naotaka won a new Ford Mustang with Ride on the Wild Side!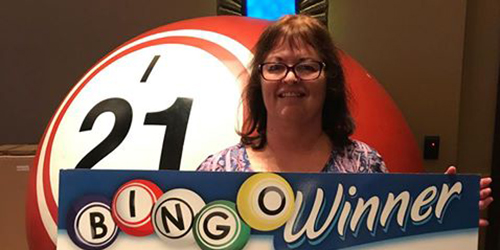 $21,800 Winner
Lori won $21,800 playing Bingo!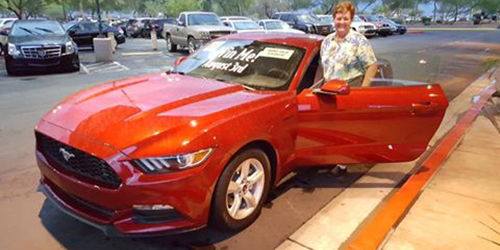 Ford Mustang Winner
Carole took home a brand new Mustang with Ride on the Wild Side!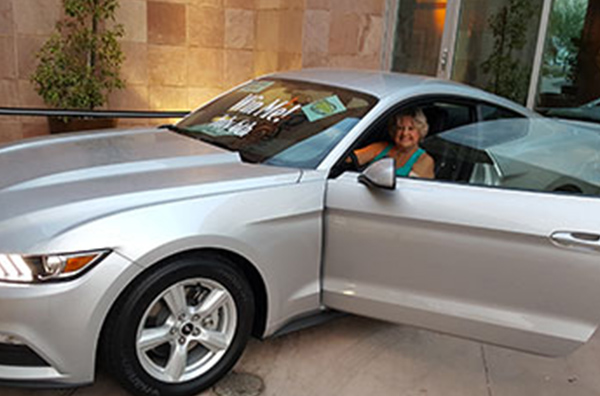 Ford Mustang Winner
Larissa H. won a new Mustang with Ride on the Wild Side!
$14,000 Winner
Minh won the $14,000 grand prize in Progressive Mondays!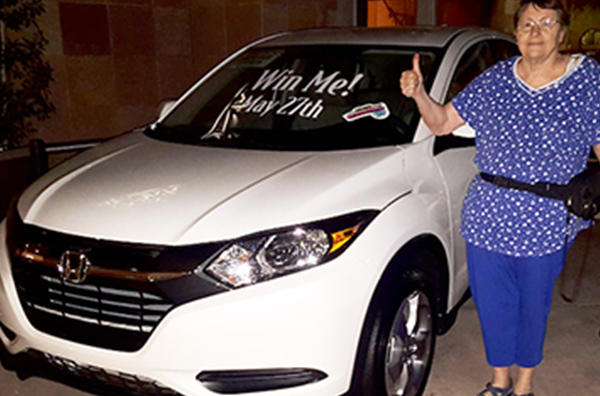 New Car Winner
Mary H. won a brand new Honda playing Bingo Extravaganza!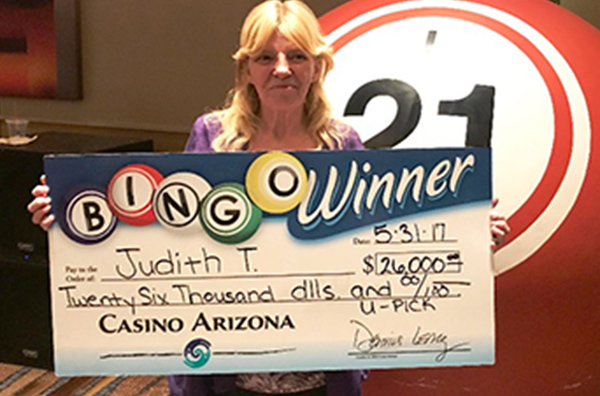 $26,000 Winner
Judith T. took home $26,000 playing bingo!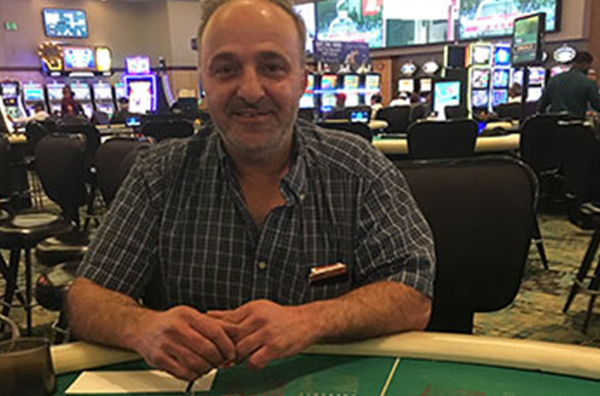 $50,000 Winner
Fewder won $50,000 with a Royal Flush at the tables!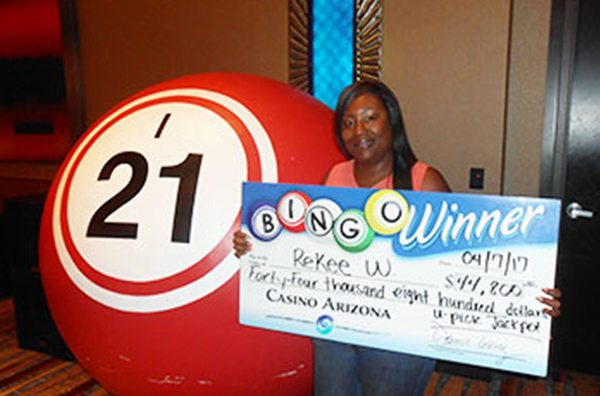 $44,800 Winner
Rekee W. won a $44,800 U Pick Bingo Jackpot!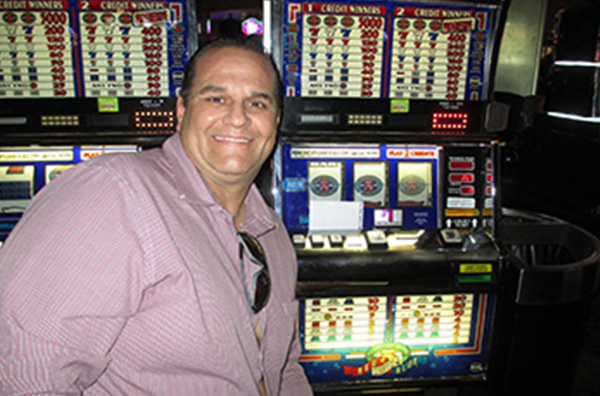 $136,967 Winner
Charles M. got a huge payout with $136,967!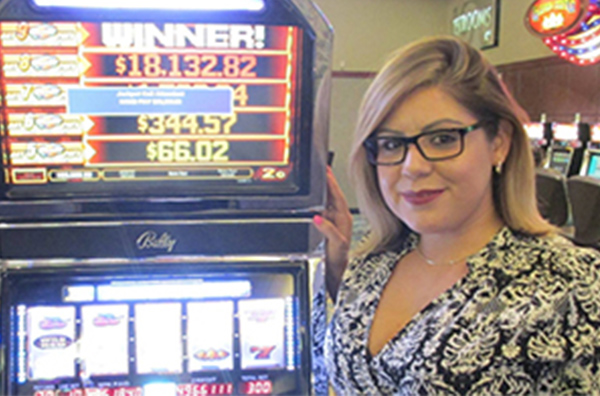 $99,236 Winner
Cynthia T. won $99,236!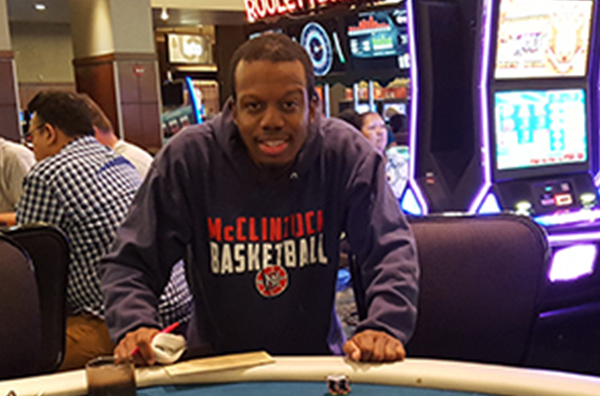 $15,000 Winner
Kristofer won a $15,000 Lucky Ladies jackpot!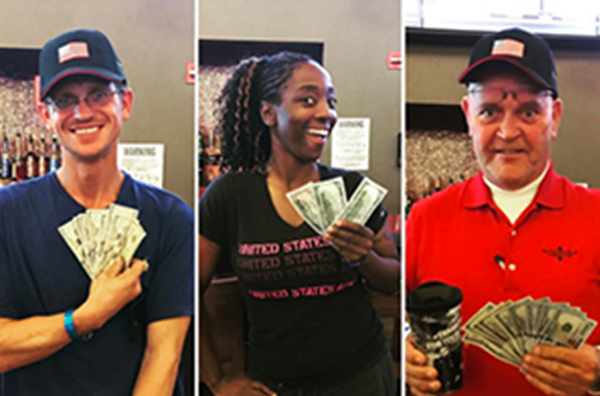 Veteran's Day Slot Tournament Winners
These vets took home big chunks of cash during our Veteran's Day Military Appreciation Slot Tournament!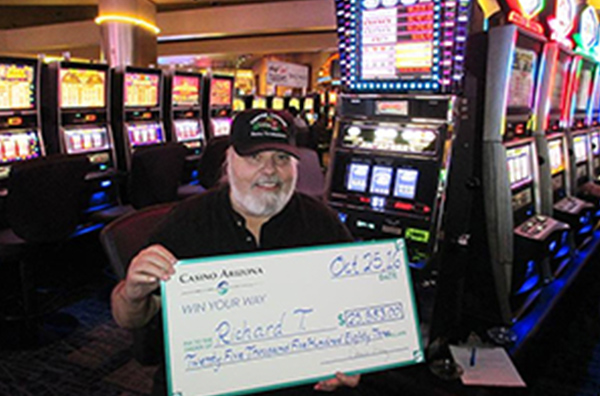 $25,583 Winner
Richard T. won a $25,583 jackpot.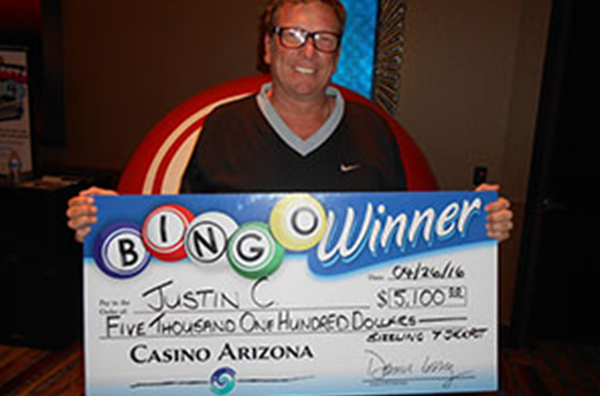 $5,100 Winner
Justin C. won a $5,100 Sizzling 7's bingo jackpot!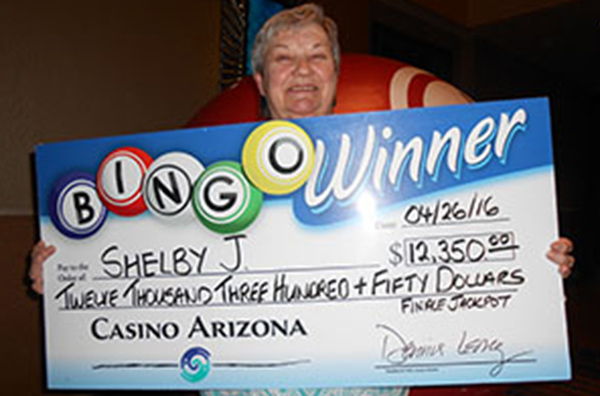 $12,350 Winner
Shelby J. won a $12,350 finale jackpot in bingo!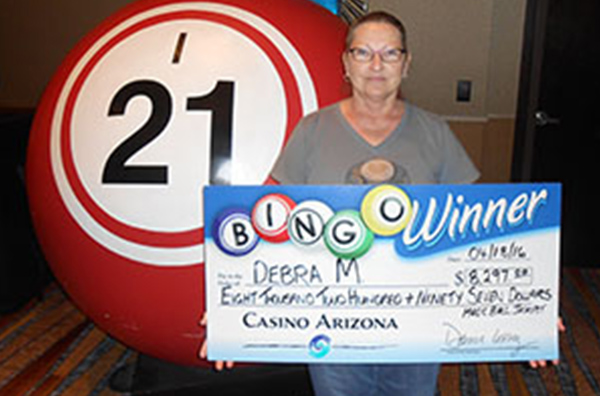 $8,297 Winner
Debra M. won a $8,297 Bingo Magic Ball jackpot!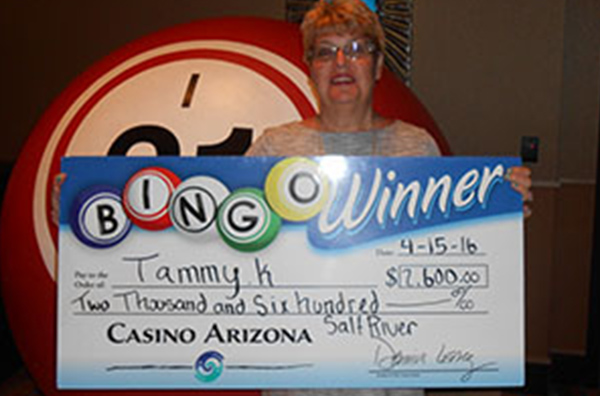 $2,600 Winner
Tammy K. won a $2,600 Salt River jackpot!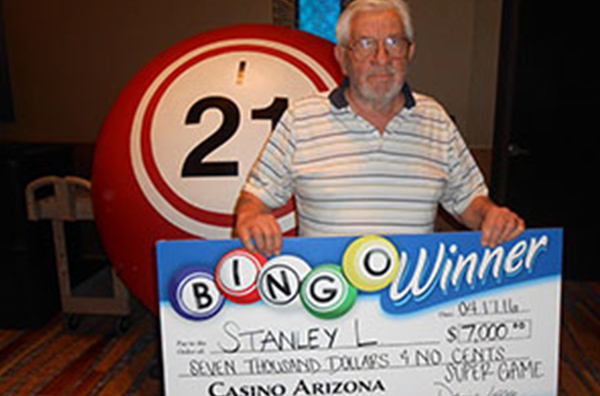 $7,000 Winner
Stanley L. is a $7,000 Bingo Super Game winner!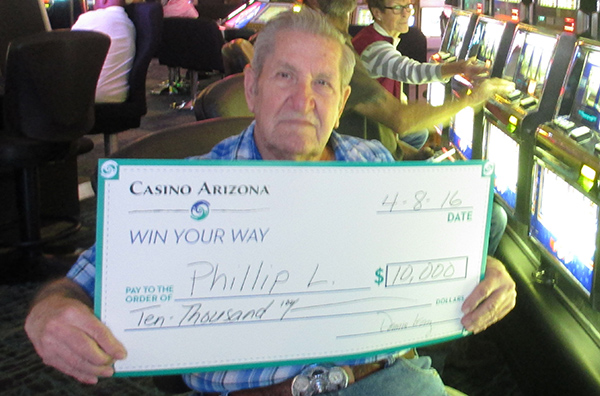 $10,000 Winner
Phillip L. won HIS way to a $10,000 jackpot!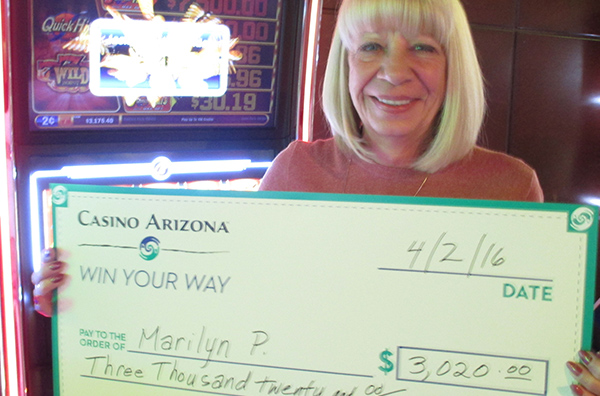 $3,020 Winner
Marilyn won HER way to $3,020!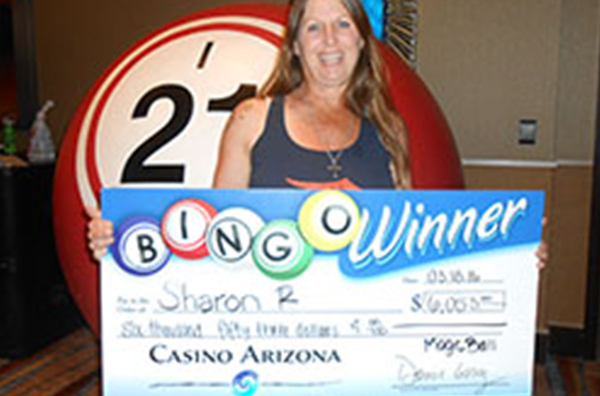 $6,053 Winner
Sharon won a Magic Ball jackpot of $6,053!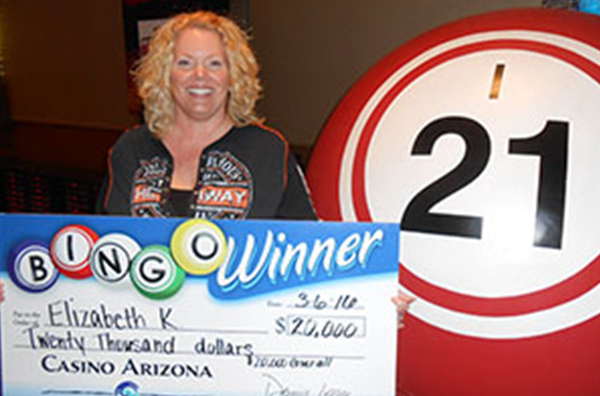 $20,000 Winner
Elizabeth W. won $20,000 in Bingo Bash!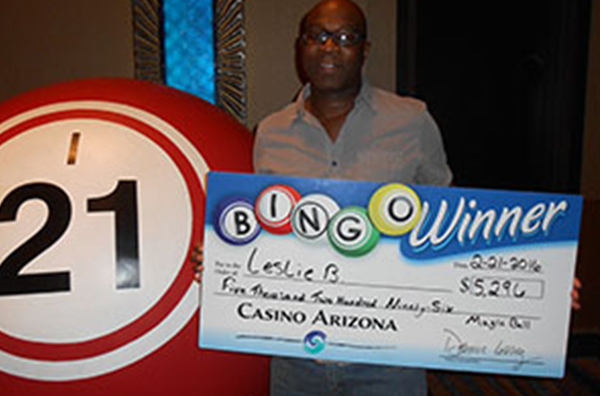 $5,296 Winner
Leslie B. took home a $5,296 Bingo Magic Ball jackpot!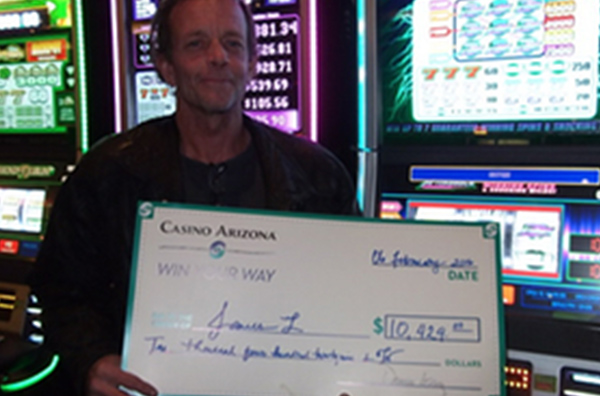 $10,429 Winner
James L. won $10,429 playing slots!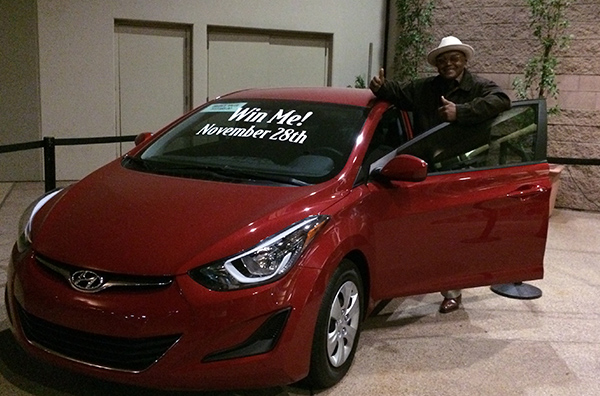 New Car Winner
Alonzo took home a 2016 Hyundai Elantra from the Bingo Daub and Drive Promotion.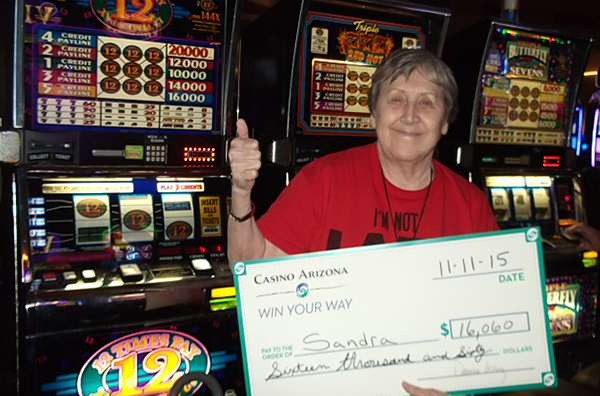 $16,060 Winner
Sandra won $16,060 on 12 Times Pay.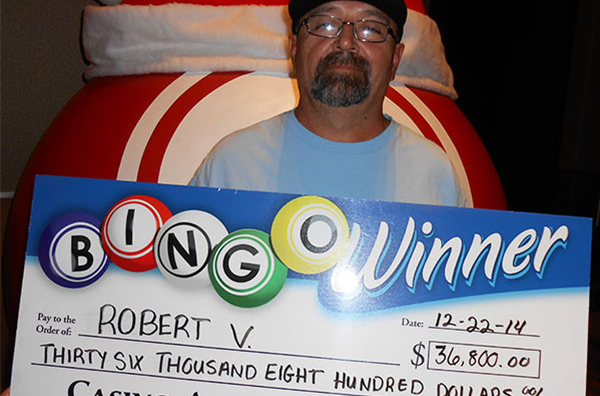 $36,800 Winner
Robert won a $36,800 jackpot playing Bingo!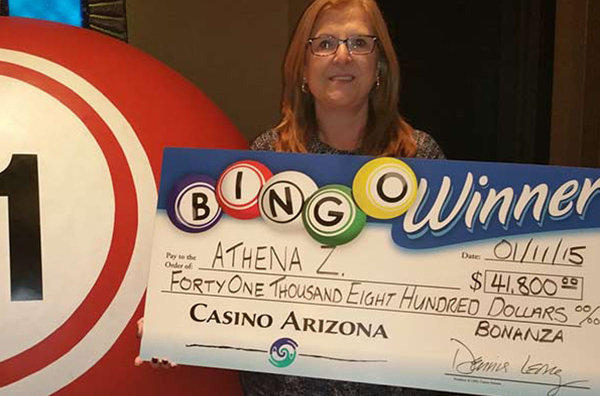 $41,800 Winner
Athena won a $41,800 jackpot playing Bingo!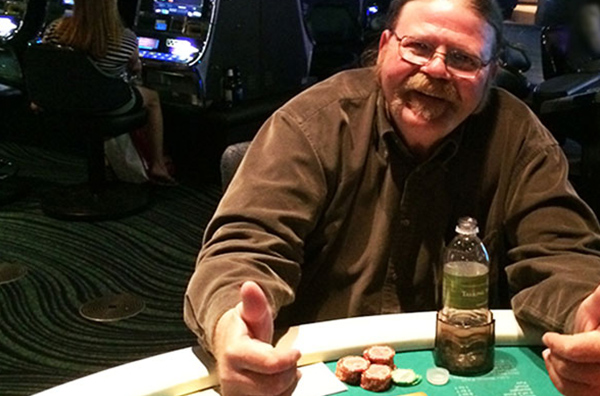 $116,214 Winner
Joseph won $116,214 playing Three-Card Poker!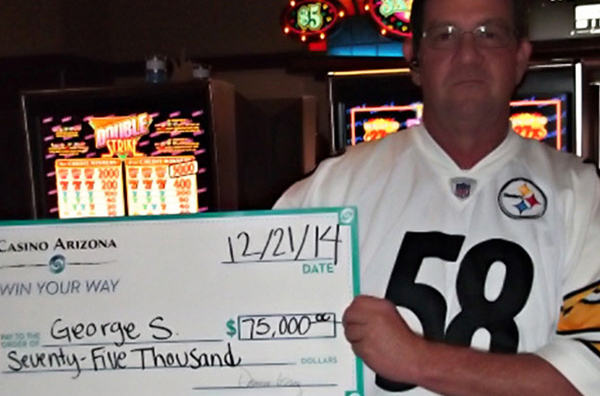 $75,000 Winner
George won $75,000 on our Triple Double Hot Ice machine with the Triple 7s!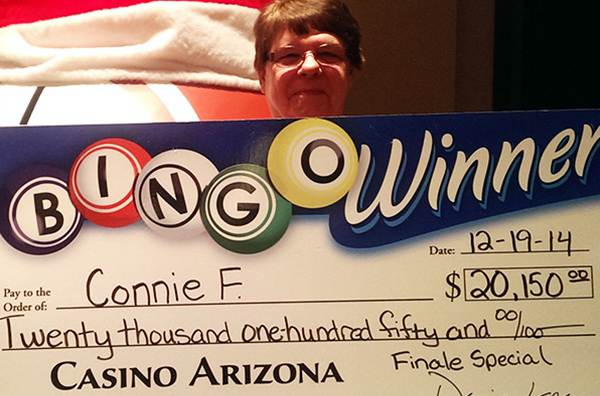 $20,150 Winner
Connie won $20,150 playing Bingo.
$575 Winner
Jose won $575 playing Keno!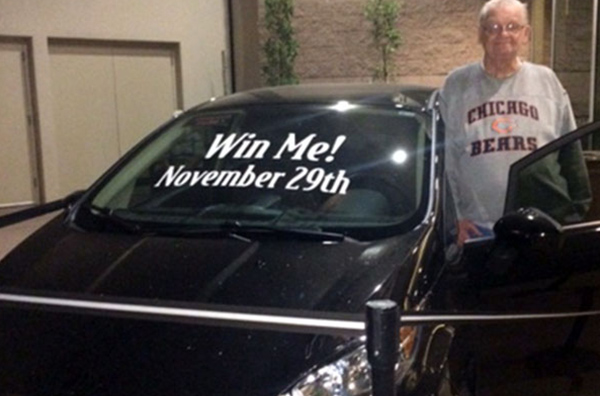 New Car Winner
Henry took home a 2015 Ford Fiesta from the Bingo Extravaganza II Promotion.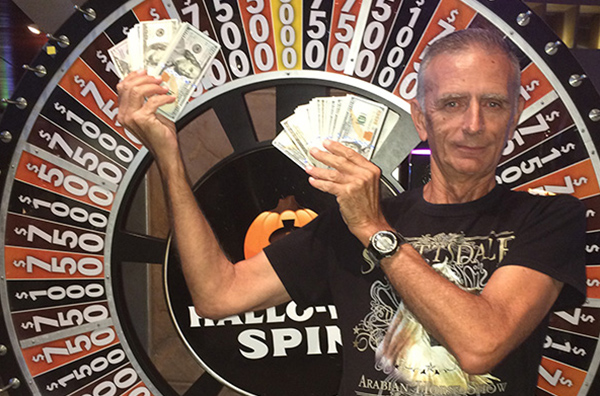 $5,000 Winner
James won $5000 during our 2014 HalloWin Spin Casino Promotion!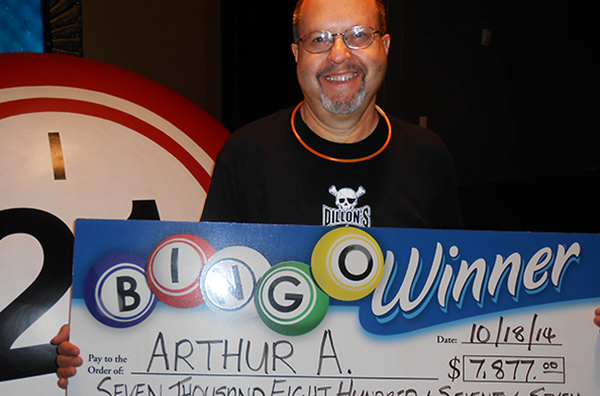 $7,877 Winner
Arthur won $7,877 playing Bingo!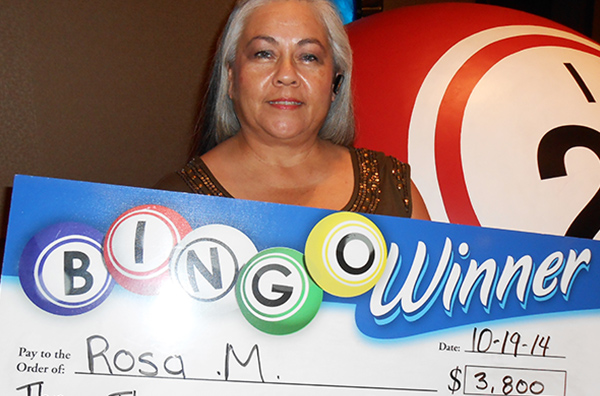 $3,800 Winner
Rosa won $3,800 playing Keno!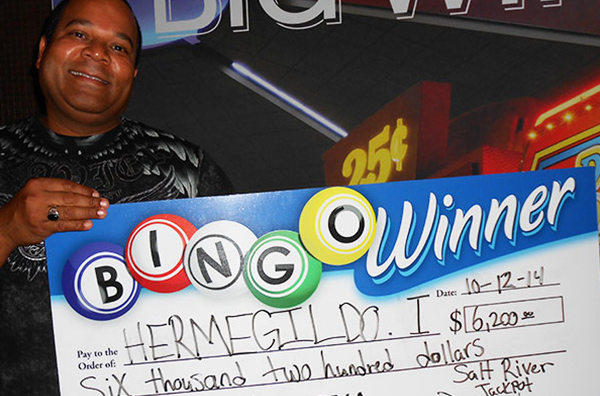 $6,200 Winner
Hermegildo won $6,200 playing Bingo!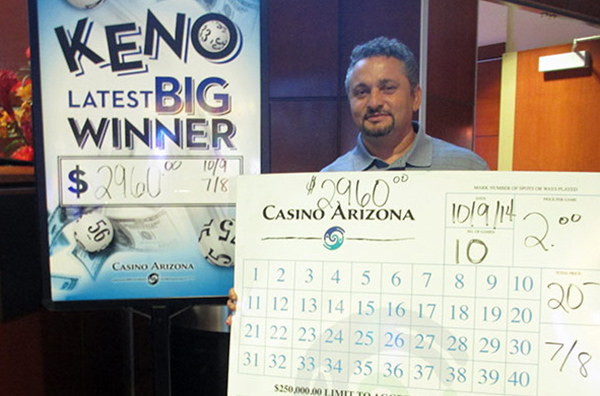 $2,960 Winner
Daniel won $2,960 playing Keno!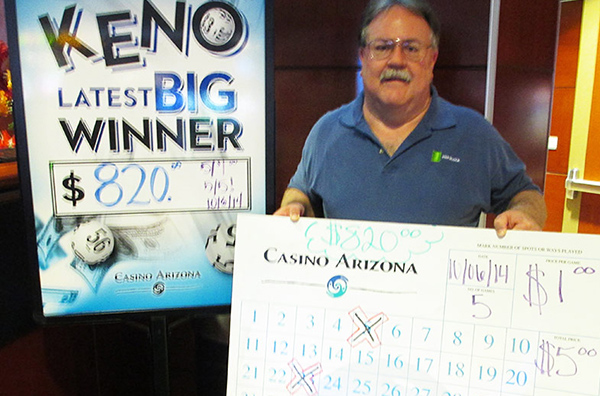 $820 Winner
William won $820 playing Keno.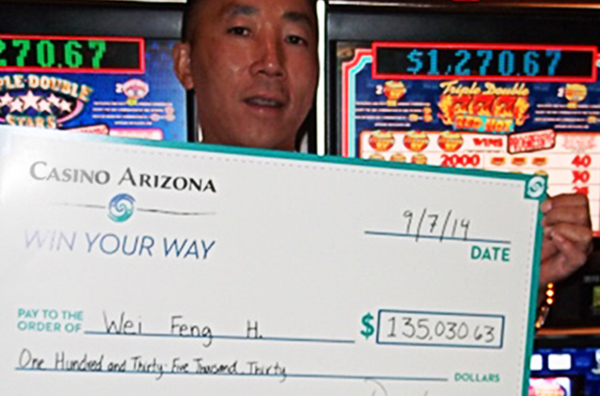 $135,031 Winner
Wei Feng H. of Chandler, Arizona—Triple Red Hot Slot Jackpot winner of $135,031!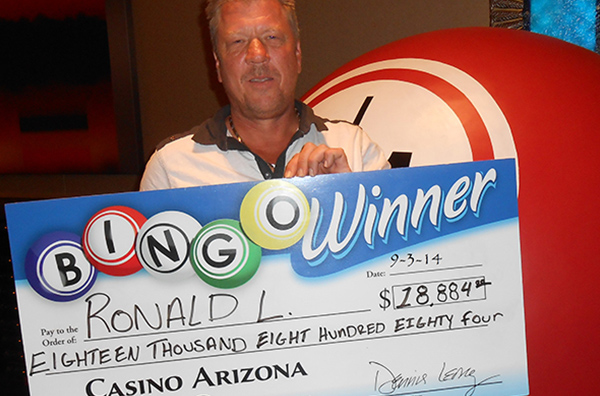 $18,884 Winner
Ron was the Bingo jackpot winner of $18,884!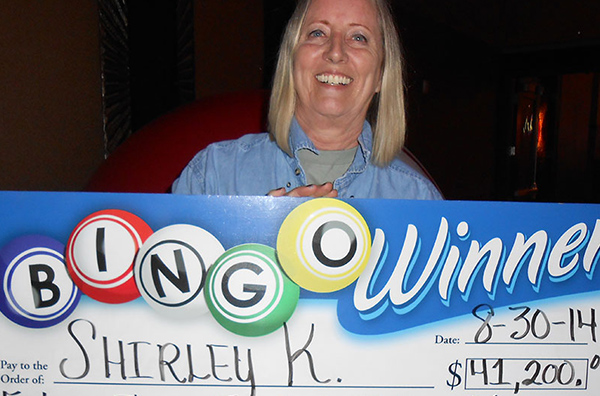 $41,200 Winner
Shirley K. was the Bingo Bonanza jackpot winner of $41,200!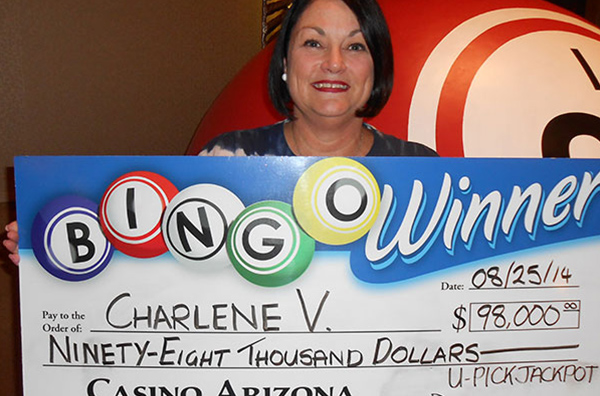 $98,000 Winner
Charlene won $98,000 on the Bingo U-Pick Jackpot.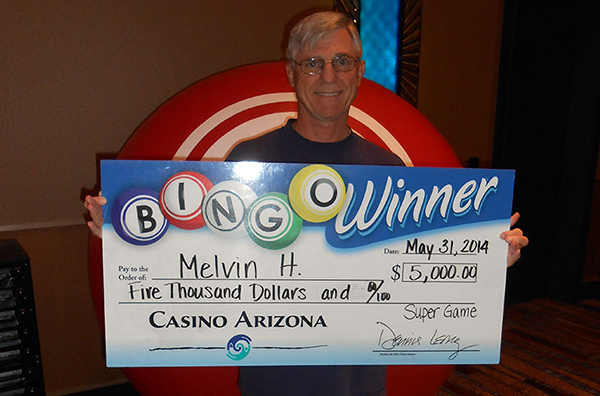 $5,000 Winner
Melvin H. won the Bingo Super Game Jackpot of $5,000.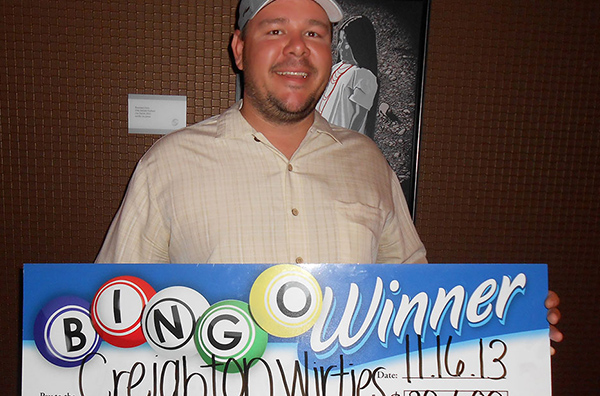 $30,600 Winner
Creighton hit the U-Pick Jackpot in Bingo for $30,600.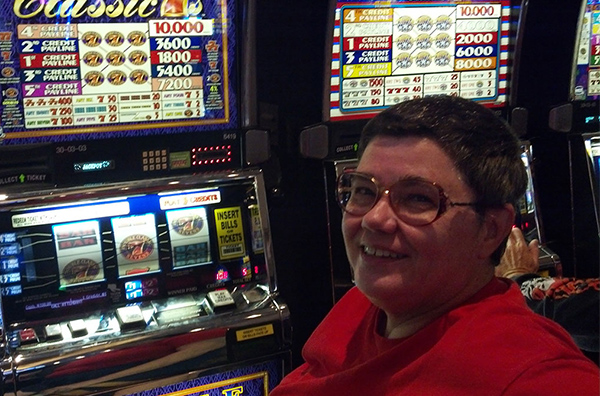 $10,016 Winner
Betty won $10,016 playing Double Classic Sevens.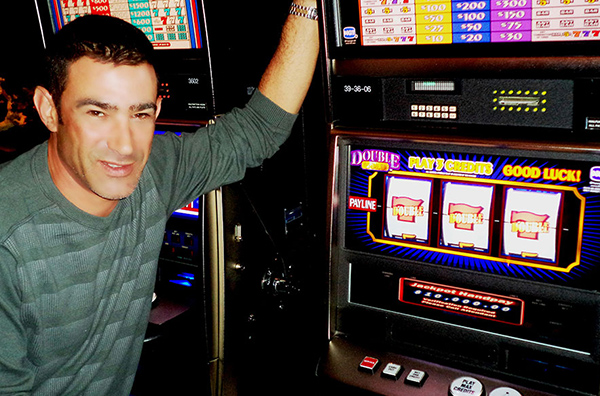 $10,000 Winner
Joseph won $10,000 playing Double Red Gold.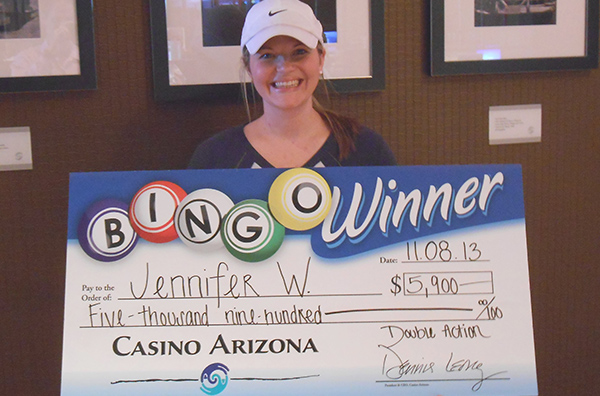 $5,900 Winner
Jennifer hit the Double Action Jackpot in Bingo for $5,900.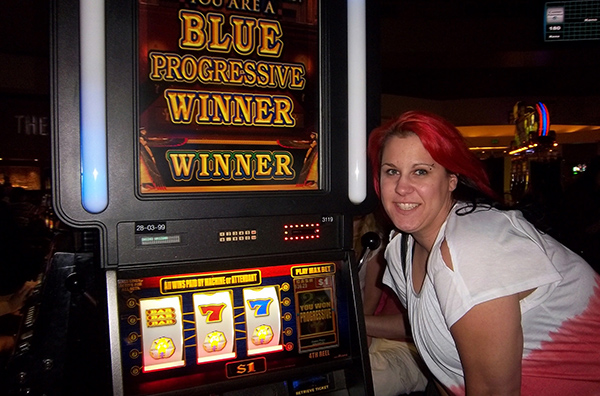 $25,048 Winner
Whitney won $25,048 playing Return of the Sphinx.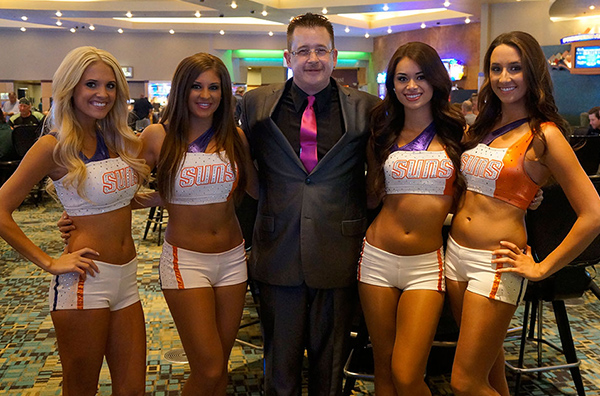 Promo Winner
Phillip won Phoenix Suns Season Tickets at the Hoop It Up promotion.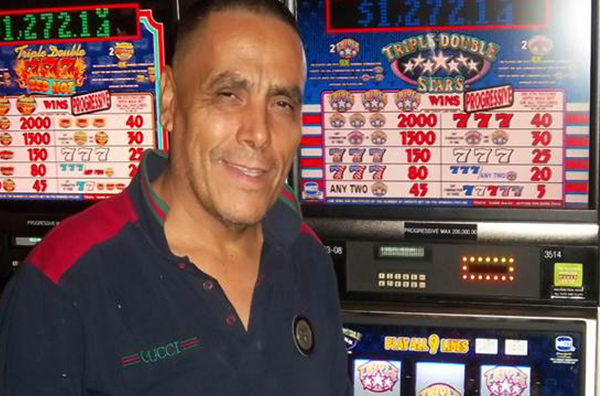 $93,803 Winner
Victor won $98,803 playing Triple Double Stars.