STARTERS
SHRIMP COCKTAIL | 14
jumbo shrimp, sherry cocktail sauce
CRAB CAKES | 14
jumbo lump crab meat, remoulade sauce
CHARCUTERIE BOARD | 12
sliced cured meats, assorted cheese, crackers
CRISPY CALAMARI | 12
dusted calamari, spicy marinara, remoulade sauce
MAPLE AND HONEY GLAZED PORK BELLY | 12
slow smoked pork belly, maple honey brown sugar glaze, roasted almonds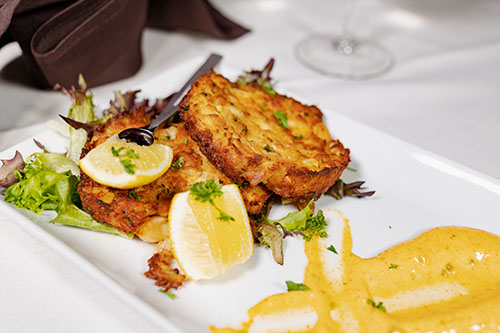 SALAD
CHOPPED ICEBERG | 10
iceberg lettuce, tomato wedge, bacon, house bacon bleu cheese ranch dressing
HEIRLOOM TOMATO AND MOZZARELLA | 11
spring mix, basil, balsamic drizzle
TRADITIONAL CAESAR | 10
romaine lettuce, shaved parmesan, croutons, house caesar dressing
SOUP
SEAFOOD BISQUE | 11
shrimp, langoustino, scallops, crab meat, lobster sauce
FRENCH ONION | 10
caramelized onion, gruyere cheese, crostini, beef broth
DINNER FOR TWO
CHATEAUBRIAND | 67
16oz. prime tenderloin, sweet-onion demi-glace, béarnaise, four accompaniments, two side caesar salads
PORTERHOUSE | 67
32oz. aged porterhouse, four accompaniments, two side caesar salads
TOMAHAWK CHOP  |  85
40oz. aged bone-in ribeye, four accompaniments, two side caesar salads
PRIME STEAKS
Choice of two accompaniments
FILET MIGNON | 35
8oz. prime tenderloin, béarnaise
NEW YORK STRIP STEAK | 33
10oz. prime strip steak, sweet onion demi-glace
HOUSE SPECIALTIES
Choice of two accompaniments
ELK TENDERLOIN | 43
raspberry chambord sauce, fresh raspberries
RIBEYE STEAK | 37
14oz.
LAMB CHOPS | 35
herb crusted lamb, pesto sauce
ATLANTIC SALMON | 27
lemon herb butter
PARMESAN CRUSTED CHICKEN BREAST | 20
white wine and garlic cream sauce
VEGETARIAN RISOTTO | 18
porcini, portabella, button mushrooms, white truffle oil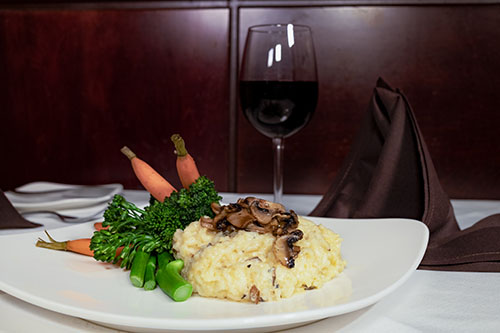 ACCOMPANIMENTS
asparagus, au gratin potatoes, baked potato, broccolini, garlic parmesan mashed potatoes, sautéed garlic mushrooms, sautéed spinach, seasoned waffle fries, baby carrots
PLAYER FAVORITES
BLACK JACK | 46
14oz. blackened ribeye, three marinated sautéed shrimp, two accompaniments
FULL HOUSE | 44
two petite 4oz. prime filet mignon, three marinated sautéed shrimp, béarnaise, two accompaniments
CLASSIC ANGUS BEEF BURGER | 13
1/2lb. patty, green leaf lettuce, tomato, onion, choice of cheese, waffle fries
add bacon, jalapeño bacon, or fried egg for $2.00
LOBSTER TAIL | MP
8oz., two accompaniments
PRIME SIDES
LOBSTER MASHED POTATOES | 12
langoustino and garlic parmesan mashed potatoes
MUSHROOM RISOTTO  |  11
porcini, portabella, button mushrooms, white truffle oil
BACON MAC AND CHEESE | 10
four cheese blend, bacon
SWEET CORN CASSEROLE | 10
onion and fennel cream sauce, baked breadcrumbs
CHOLLA HOUSE SALAD | 6
iceberg lettuce, cucumber, cherry tomato, choice of dressing
DESSERTS
CHEESECAKE | 8
ask server of seasonal changes
CHOCOLATE CARAMEL BAR | 8
devil's food cake, caramel mousse, semisweet chocolate
CHOCOLATE PEANUT BUTTER BAR | 8
peanut butter mousse, semisweet chocolate, graham cracker
COCONUT LEMON CAKE | 8
coconut sponge cake, lemon curd, white chocolate mousse
CRÈME BRULEE | 8
vanilla bean, seasonal berries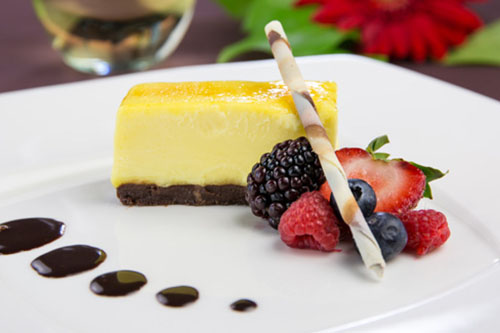 AFTER DINNER DRINKS
COFFEE
IRISH KISS | 8.50
jameson irish whisky, baileys, coffee, whipped cream topping
COGNAC
HENNESSEY V.S. | 10
REMY MARTIN V.S.O.P. | 11.50
CORDIALS
BAILEY'S IRISH CREAM | 8.50
AMARETTO DI SARONNO | 8.75
B&B | 8.75
DRAMBUIE | 9.75
PORT
FONSECA TAWNEY 20yr | 9.50
GRAHAM'S SIX GRAPES | 9.50
WINE
MICHELE CHIARLO NIVOLE MOSCATO D'ASTI
floral aromas with notes of peach and apricot, pleasant fine bubble and fresh finish
10 glass | 33 bottle
CHEF JASON DOYLE
*Eating raw or undercooked meat, poultry, fish, shellfish and eggs can increase the risk of foodborne illness. Prices do not include tax.