SALAD
CHOPPED ICEBERG | 12
iceberg lettuce, tomato wedge, bacon, house bacon bleu cheese ranch dressing
HEIRLOOM TOMATO AND MOZZARELLA | 10
spring mix, basil, balsamic drizzle
TRADITIONAL CAESAR | 10
romaine lettuce, shaved parmesan, croutons, house caesar dressing
SOUP
SEAFOOD BISQUE | 11
shrimp, langoustino, scallops, crab meat, lobster sauce
FRENCH ONION | 10
caramelized onion, gruyere cheese, crostini, beef broth
STARTERS
SHRIMP AND LOBSTER COCKTAIL | 18
jumbo shrimp, lobster claw, sherry cocktail sauce
CRAB CAKES | 18
jumbo lump crab meat, remoulade sauce
CHARCUTERIE BOARD | 25
sliced cured meats, assorted cheese, crackers
CRISPY CALAMARI | 17
dusted calamari, spicy marinara, remoulade sauce
MAPLE AND HONEY GLAZED PORK BELLY | 10
slow smoked pork belly, maple honey brown sugar glaze, roasted almonds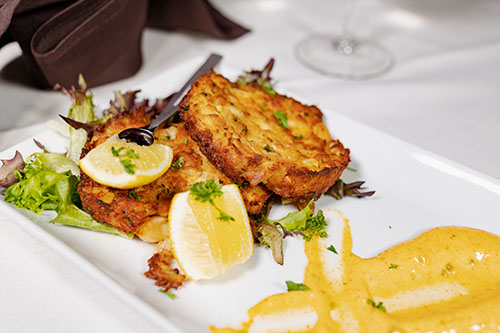 DINNER FOR TWO
CHATEAUBRIAND | 110
16oz. prime tenderloin, sweet-onion demi-glace, béarnaise, four accompaniments, two side caesar salads
PORTERHOUSE | 74
32oz. aged porterhouse, four accompaniments, two side caesar salads
TOMAHAWK CHOP  |  110
40oz. aged bone-in ribeye, four accompaniments, two side caesar salads
PRIME STEAKS
Choice of two accompaniments
FILET MIGNON | 52
8oz. prime tenderloin, béarnaise
NEW YORK STRIP STEAK | 49
10oz. prime strip steak, sweet onion demi-glace
HOUSE SPECIALTIES
Choice of two accompaniments
ELK TENDERLOIN | 60
raspberry chambord sauce, fresh raspberries
RIBEYE STEAK | 54
14oz.
LAMB CHOPS | 51
herb crusted lamb, pesto sauce
ATLANTIC SALMON | 33
lemon herb butter
PARMESAN CRUSTED CHICKEN BREAST | 30
white wine and garlic cream sauce
VEGETARIAN RISOTTO | 18
porcini, portabella, button mushrooms, white truffle oil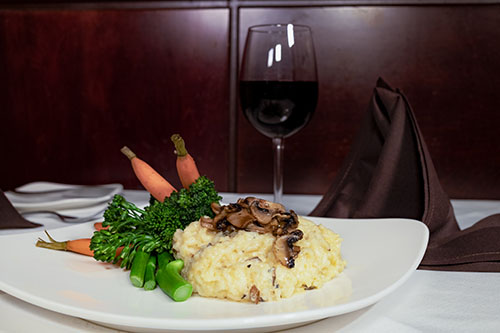 PLAYER FAVORITES
FULL HOUSE | 59
two petite 4oz. prime filet mignon, three marinated sautéed shrimp, béarnaise, two accompaniments
CLASSIC ANGUS BEEF BURGER | 13
1/2lb. patty, green leaf lettuce, tomato, onion, choice of cheese, waffle fries
add bacon, jalapeño bacon, or fried egg for $2.00
LOBSTER TAIL | MP
8oz., two accompaniments
PRIME SIDES
LOBSTER MASHED POTATOES | 14
langoustino and garlic parmesan mashed potatoes
MUSHROOM RISOTTO  |  11
porcini, portabella, button mushrooms, white truffle oil
BACON MAC AND CHEESE | 14
four cheese blend, bacon
SWEET CORN CASSEROLE | 10
onion and fennel cream sauce, baked breadcrumbs
CHOLLA HOUSE SALAD | 6
iceberg lettuce, cucumber, cherry tomato, choice of dressing
ACCOMPANIMENTS
asparagus, au gratin potatoes, baby carrots, baked potato, broccolini, garlic parmesan mashed potatoes, sautéed garlic mushrooms, sautéed spinach, seasoned waffle fries
*Eating raw or undercooked meat, poultry, fish, shellfish and eggs can increase the risk of foodborne illness. Prices do not include tax.