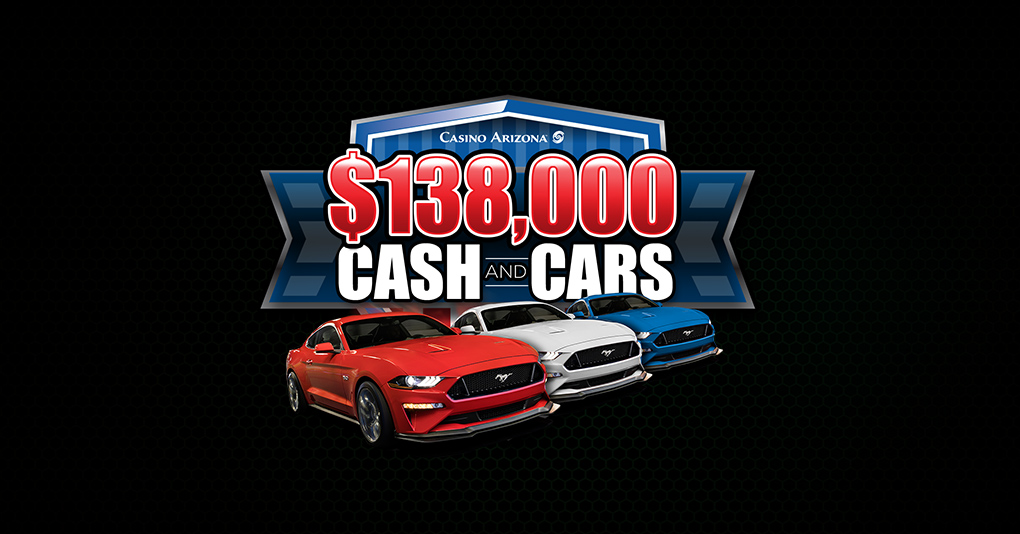 Win 1 of 3 Ford Mustangs and a share of up to $40,000 cash!
On Thursday, August 15, 22 and 29 from 6pm to 8pm, 8 winners will be drawn to punch game board 2 times for a cash prize. Then at 8pm, 8 additional winners will be drawn to punch for bigger cash prizes or a brand new 2019 Ford Mustang!
DRAWINGS
6pm -8pm | Big Money Game Board
Each winner will punch 2 times and keep the accumulation of their prize.
8pm | Big Money Mustang Madness Grand Prize
Each winner will punch 2 times and keep the accumulation of their prize.
If prize insert also reveals "Round 2," winner will choose one toy Mustang on display. The order that the winner was drawn and verified will determine the order of who will choose a toy Mustang.
First winner to find a key in the toy Mustang will be the grand prize vehicle winner.
The remaining guests in Round 2 will win an additional $250.
EARN ENTRIES
Earn 1 free entry. Earn 1 additional entry for every 50 points earned at Talking Stick Resort™ and Casino Arizona™.
Swipe at kiosk to earn 200 bonus entries every Monday during the earning period.
Stop by a kiosk to activate your Player Rewards Club™ Tier Entry Multiplier
Royal tier earn 5x entries on Saturdays
Platinum tier earn 4x entries on Tuesdays
Gold tier earn 3x entries on Wednesdays
Silver and Classic tier earn 2x entries on Sundays
Deposit entries into the virtual drawing barrel by swiping at a kiosk or playing a slot machine with your Player Rewards Club card from 5pm until 8pm on drawing dates.
Win Big on Facebook!!
Play along for your chance to win Power PERC$ via the Casino Arizona Facebook page. Keep an eye out for the Big Money Mustang Madness Facebook Video and some sweet prizes that are up for grabs! 
OFFICIAL RULES
On Friday, August 9, the contest will be posted to the Casino Arizona Facebook page. The post will feature a video of an Enterprise team member playing the game board by punching two (2) times. The accumulation of the two (2) punches will be awarded to the one (1) winner of this contest.
To win, guests must "like" the contest post and tag their favorite gaming buddy in the comments section of the post by 11:59pm on August 11, 2019. Guests must also "like" Casino Arizona's Facebook page. Each guest who comments as directed will be entered into a drawing for up to $1,250 Power PERC$. The amount will be determined by the video on the contest post.
The winner will be contacted on the post and via direct message and must respond within 24 hours of being contacted.
Guests may only post one (1) comment. By posting more than once, only the first entry will be counted.
To claim their prize the winner must visit the Casino Arizona promotions table on Thursdays, August 15, August 22 or August 29 between 6pm and 8pm.
Power PERC$ will be awarded to the guests' account and will be available to download for thirty (30) days.
This giveaway is in no way endorsed or sponsored by Facebook.