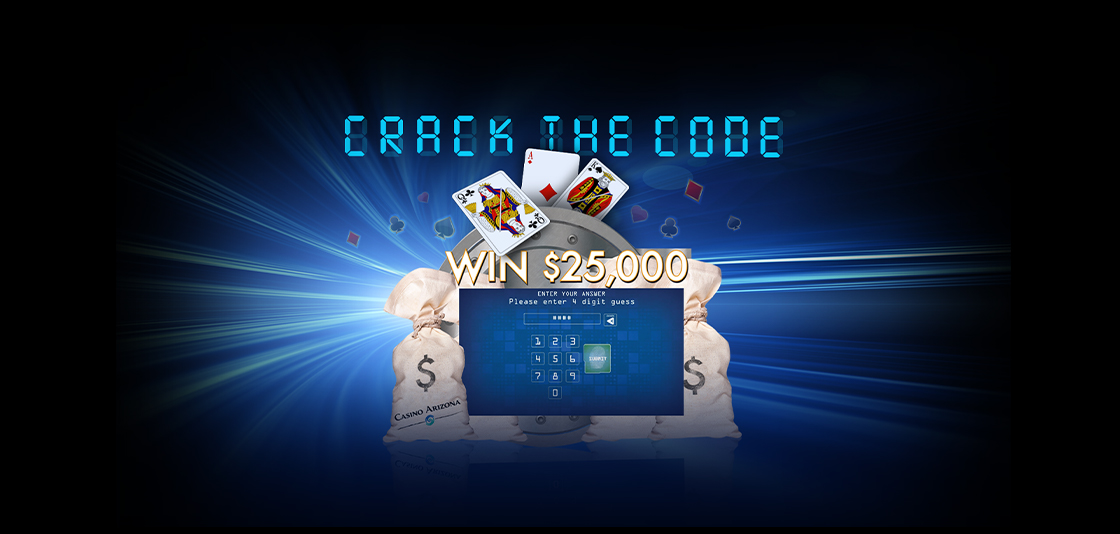 Be one of 96 winners of up to $25,000 by playing your choice of table games!
May 9 – June 27
Every Sunday | 2pm – 8pm
Earn paper entries every Sunday – Thursday with the following hands:
Blackjack: Red Blackjack in Hearts or Diamonds
High Card Flush: 3 Card Straight Flush
Three Card Poker: 3 Card Flush
Pai Gow Poker: 5 Card Flush
Casino War: Tie after Tie | 2x on $25+ bets
Deposit your entries into the drum beginning at 1pm. You can choose which Sunday to use your entries.
PRIZES
Each drawing day twelve (12) guests will have the chance to win $25,000.  Prize specifications are available in the Official Rules.
Winning guests will attempt to Crack the Code, a 4-digit code, choosing from 0-9 for all four individual digits.
Any guest to get the 4-digit code exactly correct will win the insured Grand Prize of $25,000.
All guests who do not Crack the Code will be randomly awarded chip amounts between $100 and $1,000 via the Crack the Code software.
Should a guest hit the $25,000 Grand Prize, the next drawing and the remainder of the promotion will continue with a $10,000 uninsured Grand Prize.
Visit the Players Rewards Club for official rules.