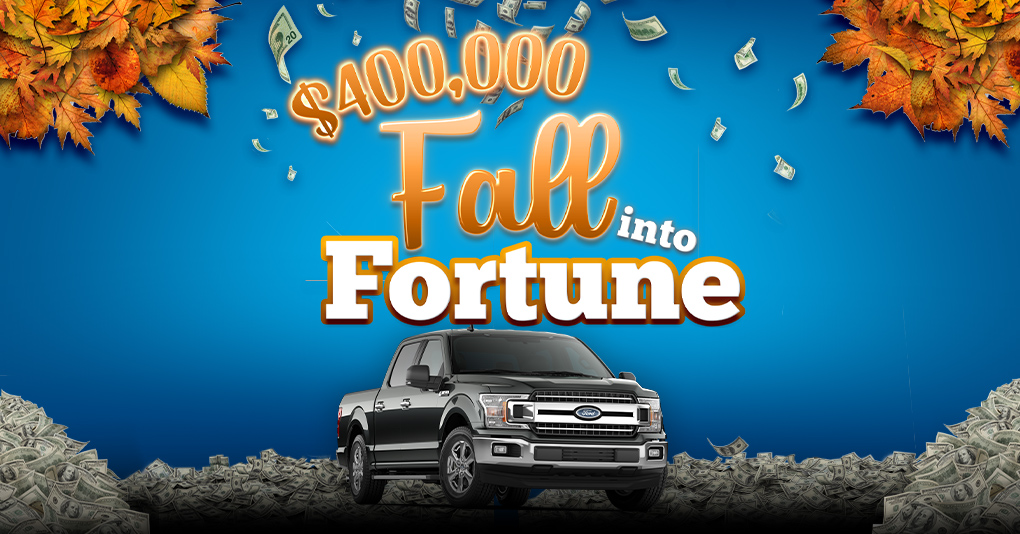 Win a Ford F-150 Supercrew or fall into a pile of up to $400,000!
Wednesdays in November will prove fortunate for 41 lucky winners! Each week 10 guests will play for up to $10,000 in cash prizes. Then on November 27, one fortuitous guest will rake in the winnings with a new FORD F-150 Supercrew!
DRAWING
Each winner will select 4 game pieces and keep the accumulation of the prizes shown.
Automatically win $10,000 cash by revealing 4 Fall into Fortune images.
Each winner will also receive 1,000 bonus entries into the grand prize drawing on November 27.
On Wednesday, November 27 at 7pm, one (1) winner will be drawn for the grand prize vehicle, Ford F-150.
EARN ENTRIES
Receive 1 free entry. Receive additional entries for every 50 points (or table games equivalent) earned.
Swipe and win up to 250 bonus entries daily.

Once 100 points (or table games equivalent) are earned, a game will populate on the kiosk.
Points must be earned and game must be played in the same day.

Deposit entries into the virtual drawing barrel by swiping at a kiosk or playing a slot machine with your Player Rewards Club card from 4pm until 7pm on drawing dates.