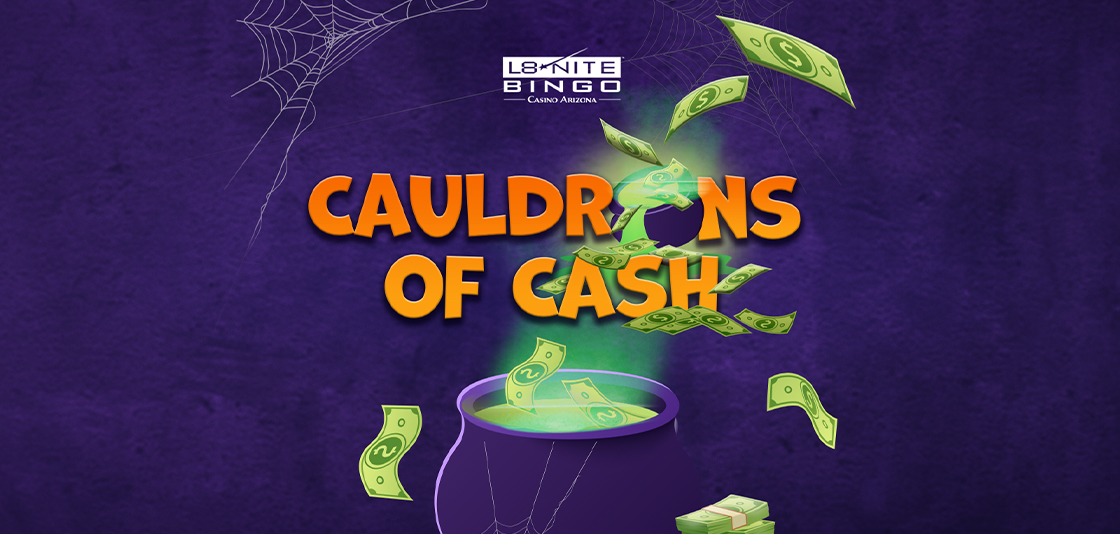 Your cash prize is brewing – select a cauldron to win up to $2,500!
Double, double, toil and trouble! 5 winners will be selected each L8 Nite session to choose a cauldron filled with cash. Play bingo on Saturday, October 16 and 30 for your chance at a share of up to $5,000! Earn entries with your Players Rewards Club™ card – it's always fast and free to sign up.
EARN ENTRIES
Earn 1 entry for every 15 Bingo points earned.
Swipe and win up to 250 bonus entries daily.

Once 60 Bingo points are earned at Casino Arizona, a game will populate on the kiosks at Casino Arizona.
Points must be earned and game must be played in the same day.

Check in to the virtual drawing barrel by swiping at a kiosk (based on availability) and selecting "Deposit Entries" on the "Drawing" tab. Guests may also ask to be checked in at the Player Rewards Club (PRC). Check in on the drawing date from 10:00pm through 12:30am.
Entries will accumulate throughout the promotional earning period.
DRAWING
During the Saturday, October 16 and Saturday, October 30 L8 Nite Bingo session, 5 winners will be drawn and select a cauldron with prize amounts from $300 up to $2,500.
The drawing is associated with the bingo sessions on October 16 and October 30, but will be conducted at approximately 12:45am – 1:00am on Sundays, October 17 and 31.