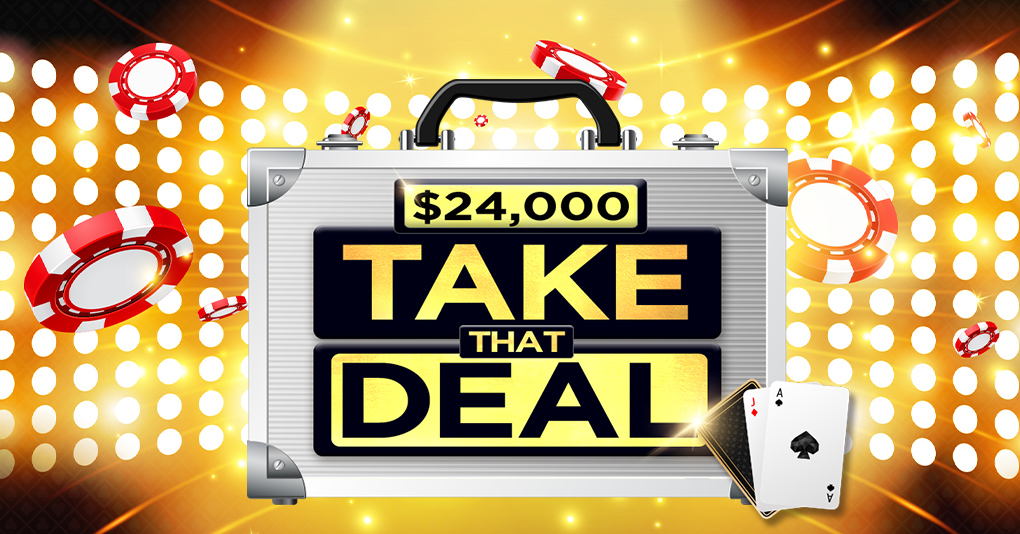 Win a share of up to $24,000 playing your favorite table games!
$24,000 Take that Deal will take place on Sundays, August 11 and August 25. Each day, six (6) winners will play Take that Deal to win $250 up to $2,000.
Take that Deal Game
There will be a game board with five (5) rows. Each row will have five (5) game pieces.
Winners will choose one (1) game piece from row one (1), and then the winner will decide if they want to keep the prize revealed on row 1 or if they would like to forfeit the prize drawn and choose a game piece from row 2. This process will continue through row 5; winners may choose to keep the prize drawn on a row or forfeit it and move to the next row.
Earn Entries
Earn one (1) free entry. Table games players only earn one (1) entry based on their earning method, equivalent to twenty-five (25) points; one (1) Promo2 dollar equals 20 entries. Play will be rounded up to the Promo2 dollar. Entries will be earned by playing table games at Casino Arizona or Talking Stick Resort.
Automatically earn 5X entries every Tuesday during the earning period.
There will be a Swipe & Win portion to this drawing.  Once one (1) Promo2 dollar is earned at either Talking Stick Resort or Casino Arizona, a game will populate on the kiosk at Casino Arizona and will award up to 100 bonus entries on the guests' account. Point must be earned and game must be playing in the same day. Only one (1) game can be played per day.
Earn entries from August 1 through August 11 for the August 11 drawing and from August 12 through August 25 for the August 25 drawing.
Deposit entries into the virtual drawing barrel by swiping at a kiosk (based on availability) or playing a slot machine with your Player Rewards Club card from 2pm to 6pm on drawings dates. Guests may also ask to be checked in at the Player Rewards Club.
Visit the Player Reward Club for Official Rules.