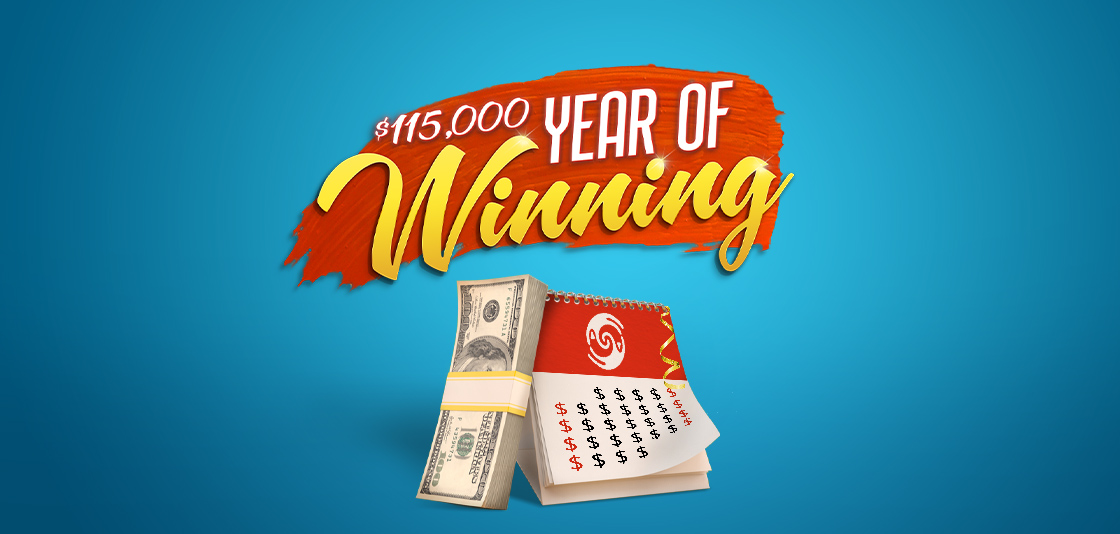 One big day of winning, one big year of payouts!
Join us on December 30, 2020 for a chance to win prizes every month throughout 2021. Guests drawn will play a game board to receive monthly prizes for all of 2021, plus $100 immediately at the time of winning. Then, at 9pm one grand prize winner will be drawn to receive a 2021 monthly payout of $2,000, totaling $24,000. The more you play, the more you earn!
DRAWING
Drawing takes place from 6pm to 9pm on Wednesday, December 30. Check-in at 5pm. 
Each winner will select a game piece. Game pieces will reveal the following Power PERC$ prizes: every month for the year: $500 (totaling $6,000), $250 (totaling $3,000), $100 (totaling $1,200), $50 (totaling $600). The grand prize will be awarded as a guaranteed $2,000 Power PERC$ per month for 2021.
Power PERC$ won will be available from the first day of the month through the last day of the month, each month from January 2021 through December 2021.
Winners may choose to receive their yearly lump sum of Power PERC$ immediately at the time of winning as a one-time cash sum totaling 50% of the yearly Power PERC$ prize.
If the winner chooses to take the prize as Power PERC$, they will receive $100 in cash at the time of winning the drawing.
EARN ENTRIES
Earn entries from December 1 through the last drawing on December 30, 2020.
Visit a kiosk every day that you visit Casino Arizona during the earning period to receive between 21 and 2021 bonus entries.
Earn 1 free entry.
Earn additional entries for every 10 points earned at Casino Arizona and/or Talking Stick Resort. Table games players earn one (1) entry for every Promo2.
To deposit your entries on the drawing date, visit a kiosk or play a slot machine with your Club card between 4pm and 9pm.