APPETIZERS
HOUSE MADE FRIED MOZZARELLA 8.00
fresh mozzarella cheese breaded and fried, served with our marinara sauce
SEAFOOD CAKES 8.25
3 house made seafood cakes grilled to perfection and served on a bed of greens with remoulade sauce
CLASSIC BUFFALO WINGS 8.25
choice of bone-in or bone-out wings tossed in one of our 5 sauces:
teriyaki - buffalo - jerk - BBQ - garlic parmesan - extra hot
SHRIMP COCKTAIL 8.25
Jumbo shrimp served with cocktail sauce and lemon
CHICKEN TENDERS 8.00
home-style breaded chicken tenders with your choice of ranch, honey dijon
GRILLED CHIPOTLE QUESADILLA 7.00
shredded cheddar, monterey jack cheese mix and green chilies in a chipotle tortilla served with pico de gallo, guacamole and sour cream
ADD CHICKEN 3.00 | ADD STEAK 5.00
HOUSE SOUPS & SALADS
CAESAR SALAD 7.50
romaine lettuce, garlic croutons, caesar dressing and parmesan cheese
THE WILLOWS COBB SALAD 8.50
romaine lettuce tossed in bleu cheese dressing and topped with turkey, ham, bacon, red onion, tomato, cucumber, egg and sliced avocado
MEDITERRANEAN SALAD 8.50
mixed greens, charred red onions, marinated tomatoes and olives, pasta, feta cheese, balsamic vinaigrette with grilled rosemary bread
ASIAN CHICKEN SALAD $8.50
mixed greens, napa cabbage, leeks and carrots tossed in our sweet Asian vinaigrette, topped with toasted almonds and crispy fried chicken

SALAD ADD ONS: ADD CHICKEN 3.00 | ADD SALMON 4.00 | ADD STRIP STEAK 5.00
OUR DAILY HOUSE-MADE SOUP 
cup 3.50 | bowl 4.50
SANDWICHES
Includes your choice of side: FRENCH FRIES - SWEET POTATO FRIES - COLESLAW - JALAPENO COTTAGE CHEESE - POTATO CHIPS
Add an additional side for $2.50

CASINO CHEESESTEAK 8.95
shaved prime rib, onions, peppers and mushrooms smothered in provolone cheese and served on a grilled hoagie
REUBEN SANDWICH 8.25
corned beef, swiss cheese, thousand island dressing and sauerkraut, served on grilled marble rye
TUNA SALAD SANDWICH 7.95
house-made tuna salad with lettuce and tomato served on toasted whole wheat toast
CHICKEN SALAD SANDWICH 7.95
our house-made chicken salad served on a buttery croissant with tomato and lettuce
TUSCAN CHICKEN SANDWICH 8.25
roasted red peppers, red onions, tomatoes, green leaf lettuce, house pesto and provolone on a grilled ciabata roll
TURKEY CLUB SANDWICH 8.25
sliced turkey, bacon, tomatoes, green leaf lettuce, mayonnaise and swiss cheese on toasted sourdough bread
BURGERS
Includes your choice of side: FRENCH FRIES - SWEET POTATO FRIES - COLESLAW - JALAPENO COTTAGE CHEESE - POTATO CHIPS
PATTY MELT 8.95
1/2 lb 100% all beef house ground burger patty, swiss cheese, grilled onions and mushrooms on marble rye
THE CHEF'S VEGGIE BURGER 8.50
our black bean burger grilled to perfection and topped with balsamic marinated zucchini, squash, fresh basil and feta cheese on a fresh egg kaiser roll
WILLOWS GRANDE BURGER 9.50
½ lb 100% all beef house-ground burger patty, hash browns, bacon, cheddar cheese and egg with lettuce, tomato, pickle and onion rings on a fresh egg kaiser roll
BUILD YOUR OWN BURGER 9.25
½ lb 100% all beef house ground burger patty with lettuce, tomato, onion on a fresh egg kaiser roll and 3 additional toppings:
mushrooms – green chilies – bacon – grilled onions – jalapenos – guacamole - cheddar cheese - swiss cheese – american cheese – jack cheese – bleu cheese
ADDITIONAL TOPPINGS .50 EACH 
ALL YOU CAN EAT, LIMITED TIME OFFERS
(When it's gone, it's gone)
Lunch 11:00 a.m. – 2:00 p.m.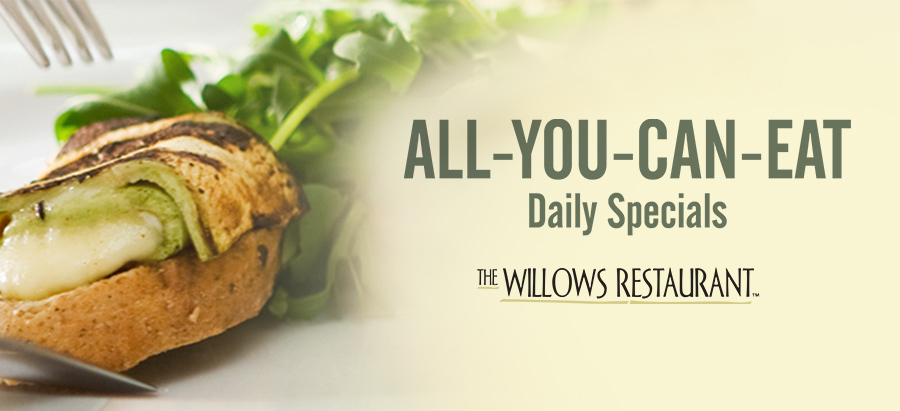 SOUP, SALAD AND DINNER ROLLS 7.95
Cup of soup of the day, dinner salad choice of dressing, dinner rolls and butter
 
Select menu items can be prepared gluten free or vegetarian, please see server for more details. Prices do not include tax. An 18% gratuity will be added to groups of six or more, as well as a $3.00 charge for a split plate. Please inform your server of any allergies. 
Eating raw or undercooked meat, poultry, fish, shellfish and eggs can increase the risk of food borne illness.
OTHER MENUS